Technologies Internet et Education
, ©
TECFA
3. Avant le Web: FTP, telnet et usenet News
---
3. Avant le Web: FTP, telnet et usenet News
La communauté académique n'a pas découvert Internet avec le Web
3.1 Timeline: QQ réseaux et services pour situer l'évolution
3.2 Textes: Milestones
J.C.R. Licklider and Robert Taylor , research directors for the Department of Defense (1968)
"What will on-line interactive communities be like?" ..."In most fields they will consist of geographically separated members, sometimes grouped in small clusters and sometimes working individually. They will be communities not of common location, but of common interest..."
Howard Rheinhold (1988), "Virtual Communities, Whole Earth Review:
The network of communications that constitutes a virtual community can include the exchange of information as a kind of commodity, and the economic implications of this phenomenon are significant; the ultimate social potential of the network, however, lies not solely in its utility as an information market , but in the individual and group relationships that can happen over time.
Résumé: communautés et information
3.3 Internet avant le Web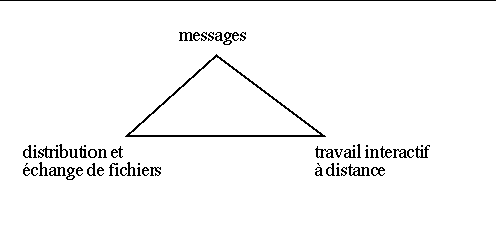 échange
---
-- TIE